Meet Lorie Ball
Lorie Ball for Salem, NH State Representative
Without freedom of thought there can be no such thing as wisdom; and no such thing as public liberty, without freedom of speech.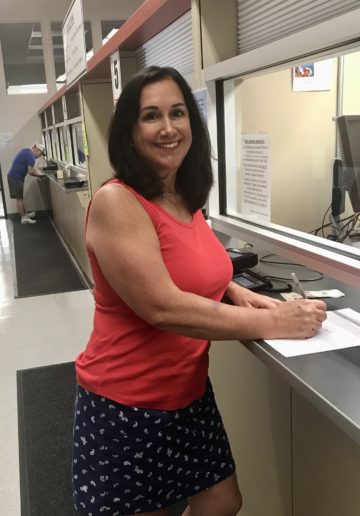 Lorie has spent her life quietly working behind the scenes supporting her community and advocating for those in need. Over the years, Lorie has been a Girl Scout leader, a team mom, and a school volunteer. She served a President of a large homeowner's association and as Chairperson of a Charity Ball Committee that raised $25,000 for the reconstruction of a historic barn that now serves as the Hollis Community Center. Lorie also served as a volunteer Court Appointed Special Advocate in the New Hampshire Court system.

Professionally, Lorie previously worked in the banking industry as a junior loan officer, credit analyst, and an assistant Branch Manager. She also has experience working as a paraprofessional preparing paperwork associated with foreclosures, as well as working as a bookkeeper in the retail business.

In 2009, Lorie graduated Summa Cum Laude from Rivier University with a Master of Education in Emotional and Behavioral Disabilities. She was later certified as a Reading and Writing Specialist in 2011, and accepted into the Education in Leadership and Learning Doctoral Program in 2018.

Once you learn to read, you will be forever free.
As a retired teacher, special education advocate, and grandmother of school aged children, Lorie is dedicated to making sure New Hampshire's children are reading at grade level by grade three.
Lorie worked as a volunteer for many years in the Nashua School District and in the Catholic Schools of the Diocese of Manchester. In 2007, Lorie began working for Salem School District as a Special Education teacher at Woodbury School. While there Lorie worked with an array of identified students giving her experience teaching in eleven of the thirteen areas of special education. In 2015, Lorie was offered a position in Hampstead School District where, in addition to teaching, Lorie served as the building Special Education Coordinator and was a member of the Leadership Committee. Her passion for assuring all students educational needs are met inspired her to start an advocacy business. As a special education advocate, Lorie worked with parents around the state to help them understand the special education process. She worked cooperatively with both the parents and the school districts to open lines of communication and establish a collaborative working relationship.
In March 2022, persistent state-wide low proficiency scores in reading, math, and science inspired Lorie to run for the Salem School Board. Although she earned the votes of 1,640 Salem residents, the final tally fell short of exceeding the votes of her twenty-one-year incumbent opponent by 74 votes. Not to be discouraged, Lorie decided to take her fight to the state. While she would have loved to serve on the Salem School Board, Lorie believes her calling is to Concord where she can put forth legislation that will not only meet the needs of Salem students, but will meet the needs of the 42,000 New Hampshire students who are not performing at proficient levels.
To learn, you have to listen. To improve, you have to try.
Lorie is dedicated to her local community and as State Representative she will work hard to meet the needs of all Salem residents.